---
On January 28, Malay Mail reported on the group of Form Four (10th grade) students who went viral in Malaysia due to their own rendition of BLACKPINK's Ddu-du-ddu-du-du.
The students gave the record-breaking song an ethnic approach using traditional instruments.
The trending video was uploaded by their music teacher Afizal Razak via his Twitter account on January 26. The ten-piece group comprising only female students, highlighted the use of the kettle gongs and other percussive instruments like the gendang, as well as a bass guitar.
According to Malay Mail, the tweet featuring the musical act from the Gopeng Integrated Boarding School, Ipoh has since been retweeted more than 25,000 times and garnered over 21,000 Likes. The ensemble's previous covers of local pop hits have also been getting attention from new-found fans.
The report added that while excitement has been building for BLACKPINK's concert in Malaysia on February 23 and an additional show on February 24 at Stadium Malawati, Shah Alam, the musical ensemble's version is a talking point for its interesting fusion of contemporary pop and "caklempong".
According to Malaysia's National Department For Culture And Arts, "caklempong" is a small-size gong made of bronze that produces melodious sounds.  Each player holds two cak lempung, taking turns to play and create short melodies. Other instruments such as the Seruling Buluh, Salung, Rebana and gong are played together with the cak lempong to accompany dance performances such as Pencak Silat, Candle Dance (Tari Lilin) , Randai and Tari Inai.
The caklempong can be used as an alternative to other instruments like the Canang in Dikir Barat and 'Shadow Play' (Wayang Kulit) performances in Kelantan.
The caklempong originated from the Minangkabau community in Negeri Sembilan and has spread to other states in Malaysia. This instrument is also taught in schools and institutions of higher learning.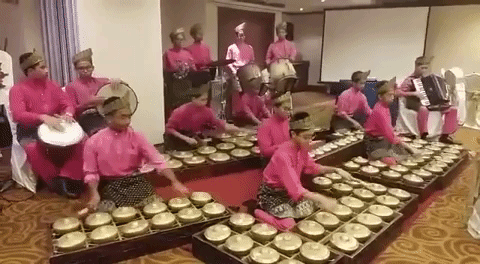 This would not be the first time that a K-Pop hit has been rendered with an ethnic spin. In August 2018, Koreaboo reported about a Malaysian school that created a traditional version of BTS' "DNA".
K-Pop is definitely crossing all boundaries and we are loving it!
Sources: Malay Mail; Koreaboo; Official Website Of The National Department For Culture And Arts
---